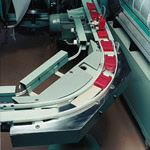 Conveyor Belts in Scotland
Our range of conveyor and processing belts for speeding the flow of goods and for economical processing in the light materials handling industry.
With over 120 types and designs the Forbo Siegling Transilon range offers the required variety for the most diverse conveying tasks in all areas and at the same time - seemingly as a matter of course - undertakes additional processing tasks too.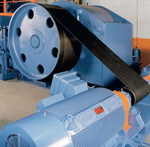 Flat Drive Belts
Our flat belts are optimised for numerous operations and have proved themselves in nearly all areas of manufacture.
As power transmission belts they are responsible for smooth transmission of power. High-efficiency tangential belts and spindle tapes get the best out of machines in the textile industry. Folder and carrier belts as well as playboy tapes safeguard the precision of machine preparations in letter-sorting systems and in the paper, printing and packaging industries.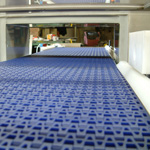 Plastic Modular Conveyor Belts
Our modular belts are a useful supplement to conventional conveyor belts in many applications, often in food manufacture. They are easy-clean, durable and food safe.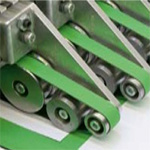 Forbo Siegling's Scottish Partners
Belting and Mechanical have been partners with Forbo Siegling belts in Scotland since the 1950's and as a result our knowledge of Forbo Siegling's products is second to none.
Contact us to find out how we can help with your conveyor belt requirements.
Industries we work with
Here is a small list of some of the industries we have installed conveyor belt systems for:
Food & Drink
Baked goods
Confectionary
Meat & Poultry
Dairy Products
Canned Drinks
Distilleries
Breweries
Bottling Plants
Paper & Wood
Paper Making
Paper Converting
Packaging
Printing
Timber
Particle Board
(Chipboard/OSB/MDF)
General
Leather
Chemicals
Textiles
Metal
Electronic
Logistics
Building Material
Recycling